What learning trends are in store for 2023? The coming year will bear witness to some significant changes across the entire business world. Recession poses an ever-constant threat so it's important that businesses equip themselves for the future. On top of it all, businesses are having trouble finding new recruits due to a labor shortage. So 2023 will force businesses to strengthen their current ranks to protect against a shallow recruitment pool.
Organizations that focus on upskilling their current workforce will find themselves in great position as we move through a year that's predicted to be turbulent. So what learning trends can we expect to see in 2023?
Trend #1: System Training & Upskilling Boosted by Digital Transformation
The unemployment rate reported reveals a labor shortage that will affect how organizations approach training in 2023. With unemployment at only 3.7% in the US (Source: US Bureau of Labour Statistics Oct 2022) and Canada at 5.2% (Source: Statistics Canada), the talent gaps are lower than they were before the pandemic. This indicator tells us that labor shortages are an ongoing issue that won't be resolved in 2023. Employment growth is being stunted by difficulties in recruiting and a lack of skilled employees. Likewise, both the job openings rate and quits rate remain at a high level in the US relative to history indicating the need for organizations to change imminently.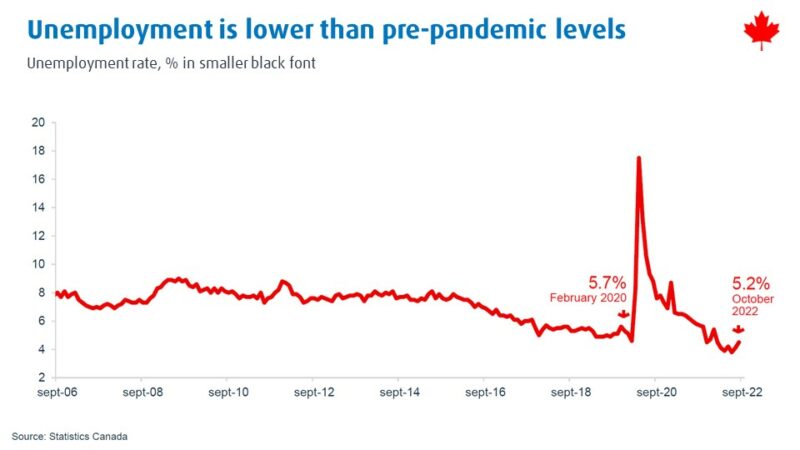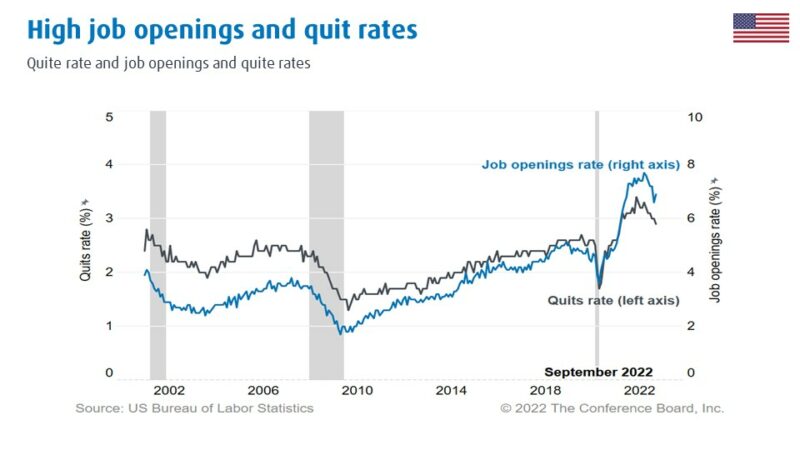 Fortunately, L&D focuses on training remaining employees within the organization to counter these lower numbers. This boosts productivity and removes many of the barriers that are created by a dried up job pool.
Therefore, 2023 is an important year for building upskilling programs that are dedicated to helping existing employees improve their skillset. This upskilling is complimented by workplace digital transformation initiatives with digital tools designed to improve efficiency, especially in light of workplaces that have fewer workers.
Digital Transformation In Effect
Digital transformation is a necessity, not just for the productivity enhancements but also to retain workers. Nine out of 10 employees say they are frustrated with their workplace technology (Source: Freshworks) and 71% of managers claim their employees will switch jobs without the tools to support their success technology (Source: Freshworks).  This accelerates the need for 2023 digital transformation efforts to be supported with effective and efficient systems training, done right the first time.
However, there's an underlying issue. Many organizations run into challenges when implementing new workplace technology. Some employees resist it, so companies run the risk of alienating the limited workers that remain. This is somewhat mitigated by additional training, but additional steps might be required.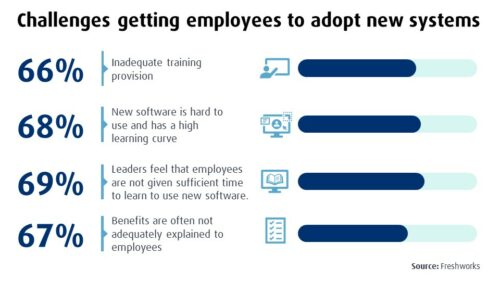 First of all, new technology tends to come with a high learning curve so developing on-the-job support, not just episodic or event-based training, is essential. Additionally, employees need adequate time to learn the systems and through effective learning support. But another often overlooked obstacle is that employees are simply not shown how the technology benefits them and hence careful change management support in 2023 is needed.
Driving technology efficiency results in better long-term profits.  However, in the short term, organizations need to train employees on the new workflows and systems. Leading organizations are investing in training to ensure the accelerating pace of systems adoption and future digital transformation efforts will provide the intended ROI of the new system. Simply put, if an organization is investing in systems to automate work and drive efficiency, any employees need to use the systems effectively to reap the full benefits of the digital transformation.
To summarize, organizations will find themselves in a workforce drought so bolstering their current workforce will become a high priority in 2023. Progressive organizations are investing in employee upskilling while also executing their digital transformation road map to deploy technology that streamlines operations, drives efficiency, and better leverages a more limited labor force
Organizations that achieve this will come out of 2023 in great position.
Trend #2: Engage & Retain Talent via Leadership Development
The market for skilled talent is tight so organizations cannot afford to lose their current workforce. Leadership has always been a highly valuable skill but in 2023, we're going to see its value rise even higher. Poor leadership will lead to decreased employee engagement and increased turnover. Both of these are compounded by a tight skilled labor market and potential recession.
Top leaders are in more demand than ever. Leadership roles have evolved in the 21st century. Managers can no longer focus solely on delegating tasks. They should act like shepherds who care for their employees and properly advocate on their behalf. This makes the development of leaders a priority in 2023.
The GP-ATD Bridging the Skill Gap Study 2022, reiterated the perennial need for critical thinking and problem solving skills, leadership and executive-level skills, and managerial and supervisory skills which manifest in both current and future skill gaps.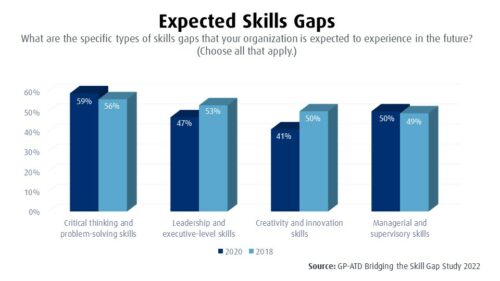 Developing the proper communication skills is a key component of leadership training. Leaders needs the ability to effectively communicate with their workforce so that they can shepherd their growth in the coming turbulent year and beyond. As a result, L&D can spearhead the opportunities for leadership training in 2023.
Trend #3: Learning Trend in the Flow of Work
L&D will integrate learning into the daily work routine in order to meet the challenges of 2023. Employees want just-in-time, personalized training on the job. They want access to knowledge when they need it, and the traditional talent development systems are seen as not keeping pace. With this new technology and data supporting and shaping the flow of work, there are opportunities for training with embedded help, just in time videos and learning at the point of need.
It's a completely different way of thinking about training when help is embedded into systems and training is not seen as a separate entity. This "trend" is not new and can be achieved with a job aid.  What's new is finally the realization that "telling" isn't the same as having workers acquire new skills. Learning in the flow of work and appropriate performance support tools can fill this gap.
Integrating learning into the day-to-day flow of work can help learning feel more natural, accessible and achievable. Providing short, simple learning resources that target a learning need can help time-starved employees upskill on the job. Technology can be used to deliver these timely resources, including using artificial intelligence for on-the-job coaching support and augmented reality to administer job aids as needed into the flow of work.
The key is to keep learning in the flow of work simple and accessible without disrupting a worker's job. This is supported by ground-breaking technology that delivers timely resources. There are several scenarios that define the moment of need.
Application: When the worker has to use the information, they learn.
Change: When a worker needs to learn a different way of carrying out a task.
Problem-Solving: When a worker needs information on dealing with an unexpected situation.
New: When a worker is first introduced to new technology or a new job process.
Additional Learning: When a worker needs information to build on existing knowledge.
Furthermore, people learn better when getting information on-the-job because they apply it instantly rather than having to memorize it. It shows employees how to carry out the task rather than just telling them. People learn better through experience. Savvy organizations will put this into practice in 2023.
Trend #4: Technology's Role will be Elevated
We will see technology take its place in other ways, piloting organizations through 2023. As we've already seen in the other trends, technology is a foundational element of meeting immediate workforce challenges. Organizations have seen this first-hand and have begun exploration of emerging technologies to integrate into their current workforce.
Technology's role in 2023 can be broken down into four separate categories.
Sub-Trend: AI for Developmental Feedback
To best support today's employees and cultivate their growth mindset, ongoing feedback is important as it allows workers to grow and transition into new roles and opportunities. However, managers and peers aren't necessarily providing this feedback, given the leadership gaps mentioned above, the tighter labour market and the focus on reaching business targets amidst reduced staff and corporate efficiency endeavors. Unfortunately, when they are providing feedback, leaders are not providing the right kinds of feedback. That also means there will be feedback gaps until that training is instilled and rooted in leaders.
This is a challenge that will fall right into the laps of L&D. New AI-backed systems excel at providing feedback so incorporating it into current feedback systems will be critical. Even though AI hasn't yet progressed to the point of creative thought, it excels at logic-based function. Fortunately, guided feedback depends on logical data input from learners, and AI technology is wonderful at extrapolating this input and determining feedback that benefits learners.
Examples include customer conversation training that is programmed to adapt to the employees' responses and reactions and provide the right selection of feedback, based on best practices. The technology has also evolved to effectively measure key visual factors like eye contact, body language, pitch, and tone, albeit with DE&I considerations that need to be tuned properly. While the mainstream technology doesn't yet allow for truly free flowing conservations with an AI bot, the specific and guided feedback is more likely to be better personalized to the learner than typical branching eLearning scenarios because the AI can take in more data inputs and therefore extrapolate and determine which learner feedback is best to serve up. Simply put, employees can receive meaningful feedback to help them grow, using AI technology.
Sub-Trend: Training Creation via AI
AI technology has also evolved to the point where it can be leveraged for the creation of learning courses. There are several tools that assist L&D in course creation, greatly reducing the hours spent during this phase.
There's a myriad of business tools to accelerate training. One great example is AI voices narrating an eLearning course. Before AI, learning courses required a human narrator which was a time-consuming and expensive endeavour. With AI voices to narrate like murf.com or wellsaid.com, it becomes possible to update scripts while maintaining the same sound quality, and for less time and expense.
Whether it's using AI transcription like otter.ai or sonix.ai, changing the audio by chancing words with descript.com, or using an AI-version of your own leader giving a talk like d-id.com, AI-training creation will become mainstream in 2023.  Besides the tools above, I've personally been using DALL-E and now Craiyon for AI generated image creation for fun.
Furthermore, there's a range of AI-supported solutions to support learners directly – from powerful, truly AI-generated personalized and adaptive learning from orbizium.com to simple built-in presentation coaching tools of PowerPoint. There's now a lot of mainstream AI already available to support L&D. L&D has access to so many AI tools that there's no way they won't be a prominent part of 2023.
Sub-Trend: Collaboration in Digital Workspaces
An interesting trend we saw during the pandemic-driven remote work stretch was employees having trouble finding essential documents. According to this report, 56% of remote workers reported problems when searching for digital documents. This issue spilled over into the workplace as well.
This challenge led to the popularity of collaborative digital environments that leverage organized communication channels and co-creation of documents. For instance, rather than emailing a file back and forth, a document is stored on the cloud where multiple individuals can access it while using the Channels in MS Teams to communicate about each project in an organized format.
While share document collaboration isn't new, 2023 is finally the year when more employees will embrace the next level of collaboration with collaborative workspaces like the Channels and Teams in MS Teams or Slack to communicate while work is being done. Collaborative spaces like Teams and Slack have evolved from the social network enterprise and siloed use to an effective and quick communication channel, whether through chat or live meetings.
2023 will see more simultaneous co-creation to keep pace with fast timelines and agile project management methods. Furthermore, the digital enterprise digital transformation efforts will continue to support the organizations efforts to modernizing and realizing operational efficiency gains
Trend #4: Expanded Application of Immersive Environments
Virtual reality (VR), Augmented Reality (AR), Mixed Reality (MR) are consistent learning trend so it's no surprise to find it on a 2023 list. Particularly when you consider the fact that it's more attainable than ever! They provide viable ways to explore difficult concepts and tasks in safe environments, especially those that are dangerous, impossible or cost-prohibitive in person.
Due to an overall maturation of XR (Extended Reality), the immersive and collaborative learning aspects are moving into more soft skills applications, including team-building escape rooms, problem-solving, critical thinking, and teaching empathy and communication. This is especially useful in learning since it's used to teach valuable skills with little risk.
This year, L&D will utilize VR and AR to engage with learners, creating team-building activities and critical-thinking challenges that promote valuable skills.
Learning Trends Will Continue to Influence Beyond 2023
One of the common themes we've seen with these learning trends is that technology continues to change the landscape. The real challenge is keeping up with the constant evolution that we're seeing in learning and development. Businesses that use learning as an opportunity to bolster their ranks are protecting themselves from future turbulence.
Which trends to you think will impact the most. Do you want to leverage these top learning trends in 2023? I'd love to hear how!